This face.
"If I go out of this game, I do want the knife to come from the front. I would like the opportunity to play for my life. I feel like we all—you and I—have earned that right in this game and in this house. Regardless of anything else, we've earned the right to at least be given the opportunity to fight for ourselves."
—
Frankie J. Grande, 9/1 10:54 AM PST
Why didn't Zach have the right to fight for himself then…
How was his best friend stabbing him in the heart fair…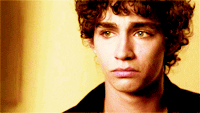 (via
banana-zachary
)
Palm trees don't even have hands
After seeing Louis in the club in Chicago on Friday, I have 100% no doubt in my mind that the Louis Tomlinson we see on stage/in press/on fan service is a completely different off the clock/non-working Louis. I haven't seen him that carefree, and with his guard (mostly) down since probably 2012. 
Does it freak anybody else out that Ansel Elgort's dad used to look like Gibby from iCarly
(Source: stutteringstiles)
So I cracked three eggs, and every one of them had double yolks. Is that some kind of record? 

I found a giant egg in the nest box today so I cracked it open and it had three yolks in it and I'm just so done with chickens right now. 



Your chickens are nuts.

I apparently need to buy a lottery ticket because reportedly, the chances of getting one double-yolked egg are 1 in 1,000, and the chances of getting one triple-yolk egg are at 1 in one billion. 
When you try the hardest not to wake up your parents

(Source: kurtzisa)
My littlest brother asked me what I wanted for my birthday, so I jokingly told him I wanted a flute.

On my birthday, he gave me this and said "I couldn't buy one, so I made one instead." 
(Source: imoquest)